THE ULTIMATE GOAL: ENGAGING WITH YOUR VISITORS
A (good) exhibition stand is one which reflects who you are, and what your brand stands for. It should highlight and showcase the singularity of your company. Your stand becomes a real communication powerhouse when it exploits the best out of your brand identity (digital, print, etc.). But that's not all.
Beyond branding, your stand enables to meet, greet, share and connect. Basically, it creates unique professional opportunities. At a trade show, it is vital to create emotion. Your objective is simple: you need to be unforgettable…and create shared memories.
Your visitor needs to remember the experience of meeting you long after the event!
---
ACTION SPEAKS LOUDER THAN WORDS!
So, the challenge is to welcome your visitors in the best conditions to interact. For this, it is vital to anticipate imagining the development of interaction spaces better.
---
PRIVACY AND VIPS – THE CEO MEETING ROOM
Show the strength of your company (and the importance of your top representatives) with a CEO meeting room. This configuration offers a confidential environment that enhances the strategic and business dimension of your meetings.
A corporate choice yet extremely pleasant and rewarding.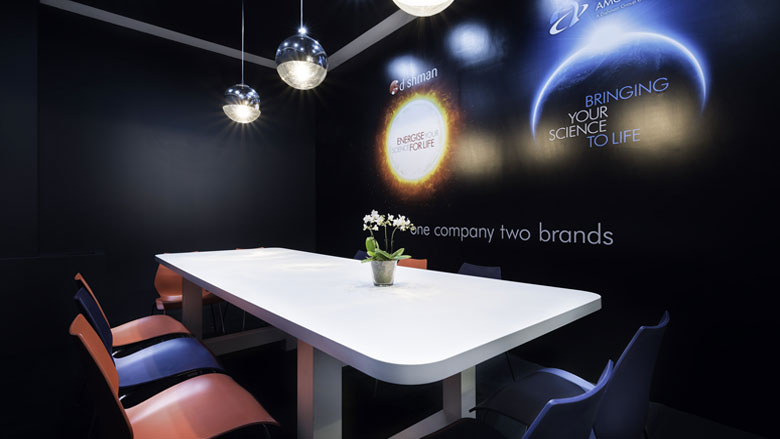 ---
TRY THE LOUNGE
A lounge area can be semi-private, closed or partially open (ideal to keep an eye on the stand's attendance!). We often opt for the "open" dimension with an airier rendering. Sofas, armchairs, cosy banquettes and neat decoration offer intimate and relaxed space, designed to break the ice and mingle.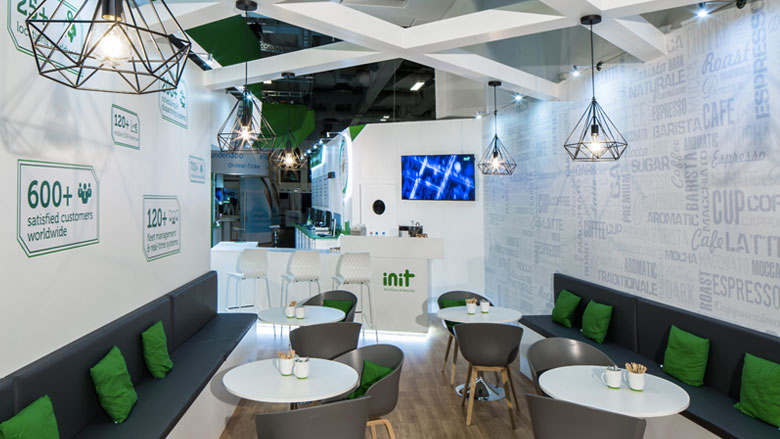 ---
STRAIGHT TO THE POINT
It is totally possible to create 100% open discussion spaces, with design stools and modern standing buffets. This is perfect for quick appointments and sometimes more informal, unscheduled meetings. This free space regularly accompanies the bar area as an adjoining discussion point. You can set up desks which are great to take notes and talk over brochures, for example.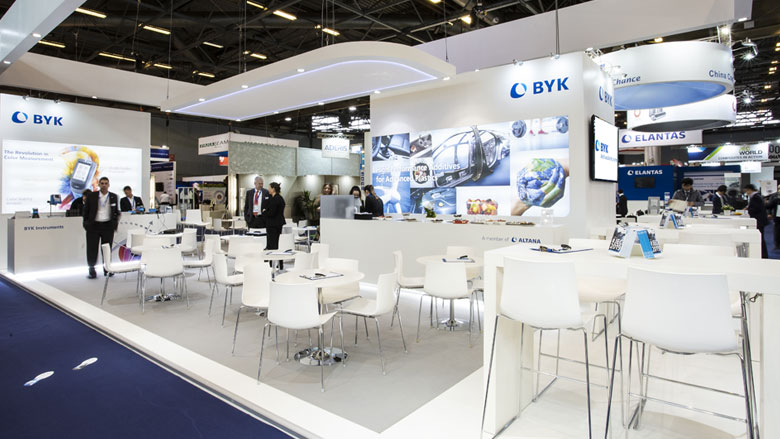 ---
MAXIMISE YOUR VISIBILITY THANKS TO A CONFERENCE SET UP
The conference area is often designed with benches, chairs and sometimes large cushions. It is a configuration imagined showcasing a solution to a captive audience. The rules of the game? Simple: your area must be optimised to accommodate a maximum of spectators. Remember to keep enough spare space to welcome newcomers (who will stand up) when the conference becomes a great success.
---
MINIMALISM AND FREEDOM
Free spaces – without furniture – offer a casual alternative when transparency is required. These zones are usually located around the area dedicated to the product or solution.
---
IT IS ALL ABOUT AMBITION
As you now know, options are numerous. The idea is to adopt a style that suits you. Each square meter is expensive. So, you have to understand how to maximise the potential of the place. Getting ready is essential! Hence the importance of seeking the views from your sales representatives who have vast experience.
What are the conditions in which they prefer to welcome prospects and customers?
It's your time to perform. Let's talk about it!